Sign Up to Our Email List to Get Bonus Content, Highlighted Articles, and Special Offers.
This is a re-post of an article I wrote last year, but its even more relevant this weekend.  
Coming off an incredible comeback against Drew Brees and the Saints, scoring two touchdowns within the last few minutes of the game, you have to ask – how has Jim Harbaugh been able to turn around a 6-10 team to 13-3?  There are lots of theories – good assistant coaches, flexible game plan, creating turnovers.  One thing last night was a telltale sign of why Harbaugh has turned around the fledgling program.  After Davis' winning second touchdown with 9 seconds left in the game, after having made a number of huge catches to put them in position to win the game, Davis was in tears.  Any time you see a tough, 250lb professional football player in tears, its quite a site.  What he did was run over to his head coach and give him a big bear hug.  It was the prodigal son returning home.  It was a "I'm proud of you son" moment.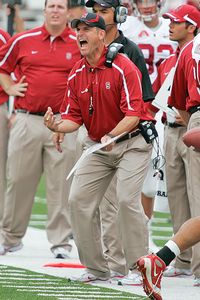 What Harbaugh does is that he truly CARES for his players.  This may seem basic, but its surprisingly absent from locker rooms and sidelines.   You're not going to win hearts and minds by being stoic and aloof.  Think Mike Singletary or Brad Childress.  Why do you think part of the reason they're not HC any more?  Who would you rather play for – Rex Ryan or Tom Coughlin?
You're players want to see that you care about them.  They want you to be jumping up and down on the sidelines after a touchdown just like there are.  They want to see you having fun, because it makes the game fun.  They want to see you leading by example.  Look at these slices of life:
– when head coach at USD, Harbaugh would sometimes run sprints with his player to show them he knew how hard they were.  Going up one steep hill, Harbaugh threw up and kept on going.
– When traveling with the 49ners, Harbaugh doesn't sit in first class with the rest of the coaches, but sits in coach with the rest of the players
– Harbaugh got so excited about his team's win over the Lions that he almost got into a fist fight with the other coach!
Remember this coaches – if you genuinely care for your players and demonstrate that, they will fight to the death for you.  Nothing strengthens a players resolve and mental toughness than knowing his coach genuinely cares about him.
Related articles
Related posts